A Word
From the Executive Director of NSCLC
To Our Community,
During these uncertain times we are reassured that our community is resilient, strong and helping each other with every fibre of care and support as is the Sandtown-Winchester way. COVID-19 is another challenge of epic proportions that we are going to meet head on with the same grit and determination as other issues — challenging us to find the best in who we are and how we rise as a community. And still we rise.
We are reassured by the energy of the staff that we will do everything possible to support and love our children and parents with food, academic/educational resources, human resources, etc. We will support you through the unwavering commitment of our — CLC team (Elder Kelly, Lamont, Michael, Sean, Tisha)  and teachers led by our Principal, Doug Fireside and lifted up by the Chair of the Family School Organization, Hope Crosby. The social and emotional wellbeing of our children is paramount as evidenced by the ongoing work of the team of Claire, LaRhonda, Mary Lee, Pam, Scott, Tierra, and others who hold their hearts, physical health and spirits. Our Board of Directors is equally committed to this process of support and resourcing what is necessary to respond where gaps present. And we know that these challenges will be met with unyielding determination from our many partners such as Safe Streets and Catholic Charities who have been providing 500 meals a day to our families and residents for the last couple of weeks and will continue to do so for weeks to come. Love comes to New Song and Sandtown-WInchester in many ways.
Please, heed the advice of the many ways in which to take care of yourselves and your family. It's not only your future that we want to see flourish but that of our/your children. We see you. We hear you. We value you. And we Love You — Monumentally!
Our vision
A nurturing, educationally challenging, equitable and inclusive environment providing exceptional academic and educational experiences forming the foundation of a healthy intellectual social and emotional set of skills for negotiating education and other pursuits important to the student and family.
Our Mission
New Song Community Learning Center (NSCLC) at the heart of Sandtown Winchester focuses on developing the academic, intellectual, social and emotional growth of students; strengthening the interpersonal dynamics of families for life-long learning, growth and development; and advancing community development and leadership anchored in social justice.
Our Philosophy
Diversity, Equity and Inclusion are the pillars supporting the educational pedagogy, academic objectives, social and emotional fabric of learning throughout a New Song experience for students, families and staff members. We are committed to supporting the strengths and dynamic creativity of our students while addressing the inter-generational inequities in institutions, systems and the community that have not provided a solid platform from which our children can succeed and flourish as global citizens. We purposefully open up a world of opportunity both for our students and their families with activities to assist in the daily challenges of life and also to embellish and enrich their lives with social and educational activities. We are also committed to embracing the diversity of the experiences within the community and beyond through partnerships, volunteers, and collaborations that open up as many opportunities as possible for our families.
Our Values
Integrity and Accountability: demonstrate honesty, responsiveness, ethical and moral behavior in the execution of professional responsibilities
Leadership: guided by a clear vision and act accordingly, individually and collectively, to support others to make decisions and assume responsibility as well as building indigenous leaders. 
Racial Equity, Diversity, Inclusion and Social justice: ensuring that the organization affirms and respects — the racial identities, history and culture of its students, parents, staff; that there is fair and equitable involvement, and relationships; and that we embrace the best practices of social justice models in our conflict resolution for students, parents and staff
Learning: committed to continuous life-long learning and performance improvement for students, families and the organization/staff
Respect: demonstrate appreciation for the intellect, skills, talents, life experiences that every person brings to the workplace
Sustainability: strive to be self-sufficient by actively seeking support that will allow us to achieve success over the long-term
Guiding Principles
     Engages students and families so that they can be effective advocates for themselves and leaders with their communities;
Coordinates services and opportunities that every child needs and deserves to succeed in school as well as services advancing whole child development and growth as well as their parents;
Works to influence/change/reset best practices related to the policies impacting strengthening the focus on student success across public and private sectors – school administration, government agencies, community organizations, etc.

A Word
From The Executive Director of NSCLC
Hello All. My name is Mark Carter, the Executive Director of New Song Community Learning Center. We support advancing and strengthening our commitment to children, parents and the community of Sandtown-Winchester and beyond. We have a community of exceptionally creative people — within the New Song Community Learning Center Executive Leadership Team, the New Song Academy, Teachers, Administrative and Program staff, the Board of Directors etc. — all working diligently to bring new and different energy to a historic organization; educating some of the best and brightest children in Baltimore and supporting their families with a variety of activities and services.

Doug Fireside, Principal of New Song Academy
Doug Fireside is honored to be returning to New song to serve the community as principal. He has spent over 25 years in public education, most of that in Baltimore City Public Schools. He was a teacher at New Song for 6 years and is excited to be rejoining the community in this new role. Doug received his undergraduate degree from the University of North Carolina at Greensboro and his Masters degree from Johns Hopkins. He moved to Baltimore in 1994 and is proud to call Baltimore his home. He has three children, two of whom are at City Schools. His wife, Laura Weeldreyer is the executive director of Maryland Family Network, and is also a long time educator and advocate for children and families.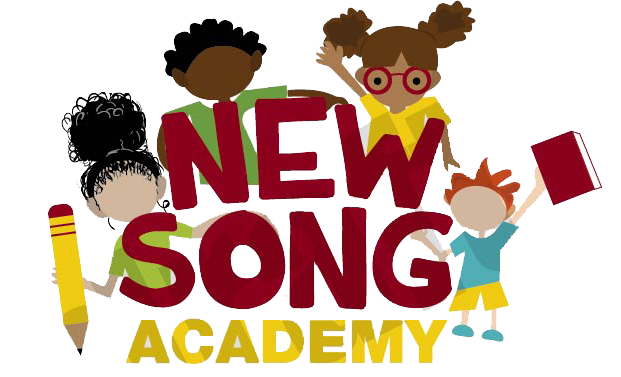 In response to the need for food by NSCLC families and members of the community (everpresent and significantly amplified by the economic hardships created by COVID-19) we are providing box lunches to people on a first come, first served basis Mon-Friday at 11:00 AM through the month of April. Generously sponsored by Safe Streets and Catholic Charities.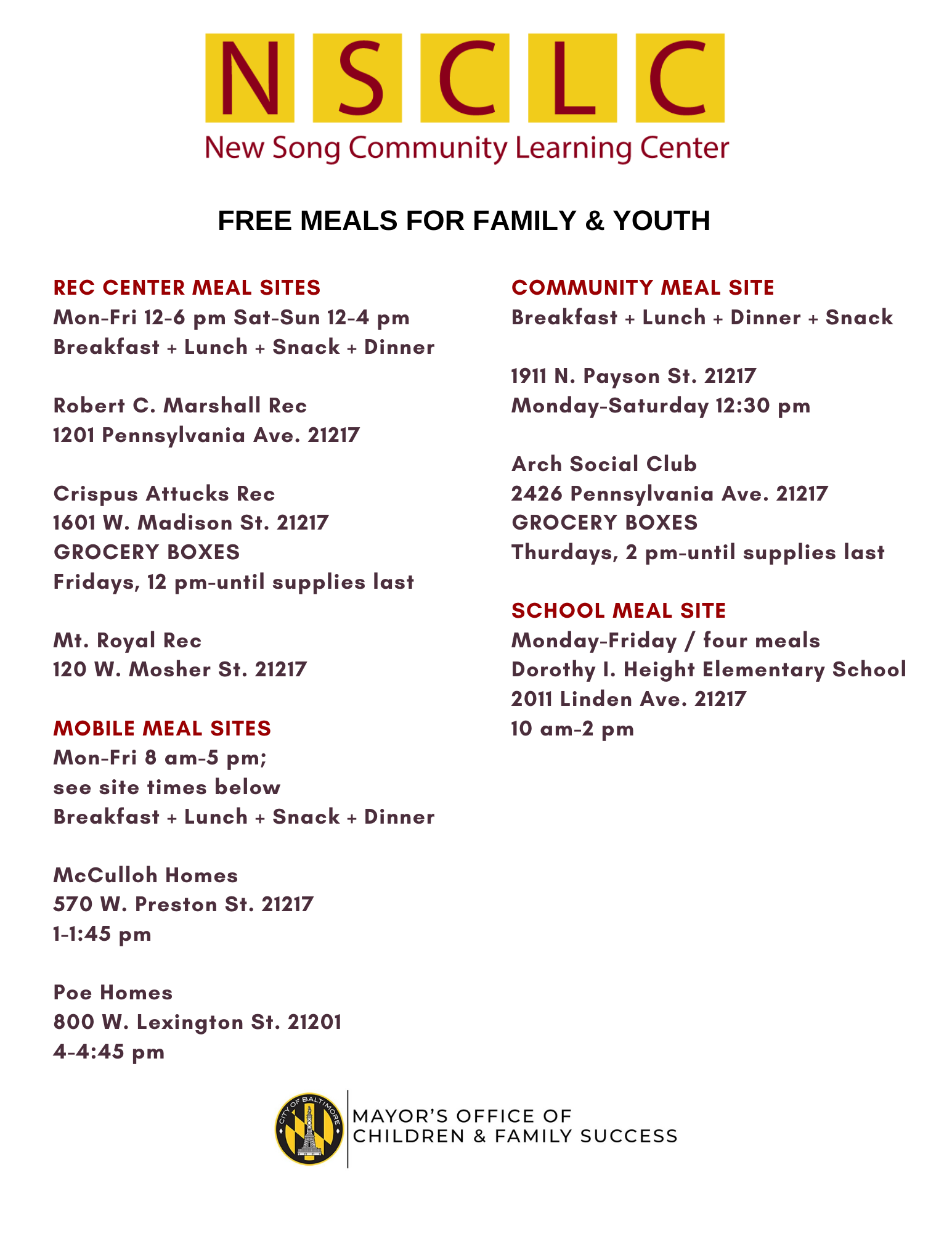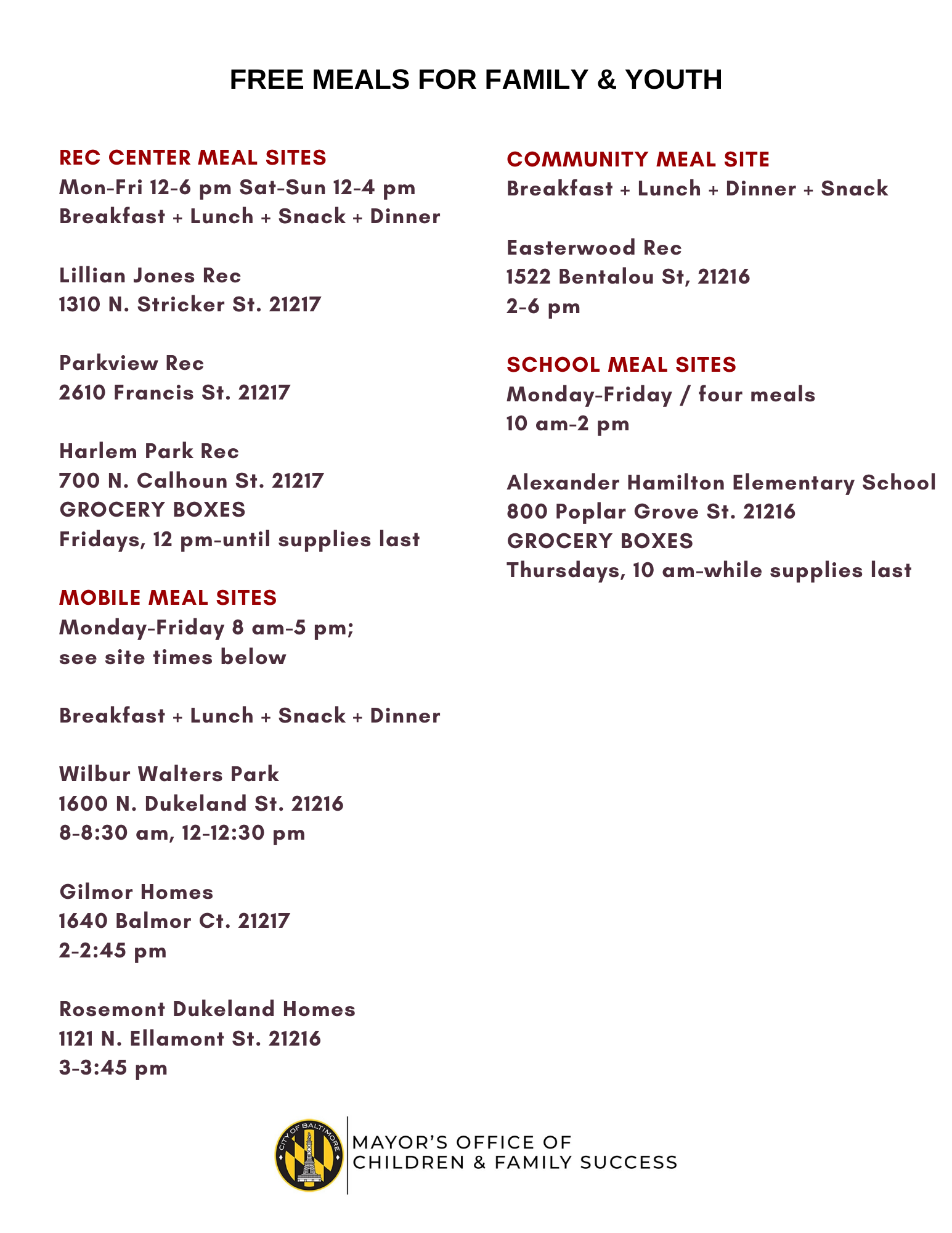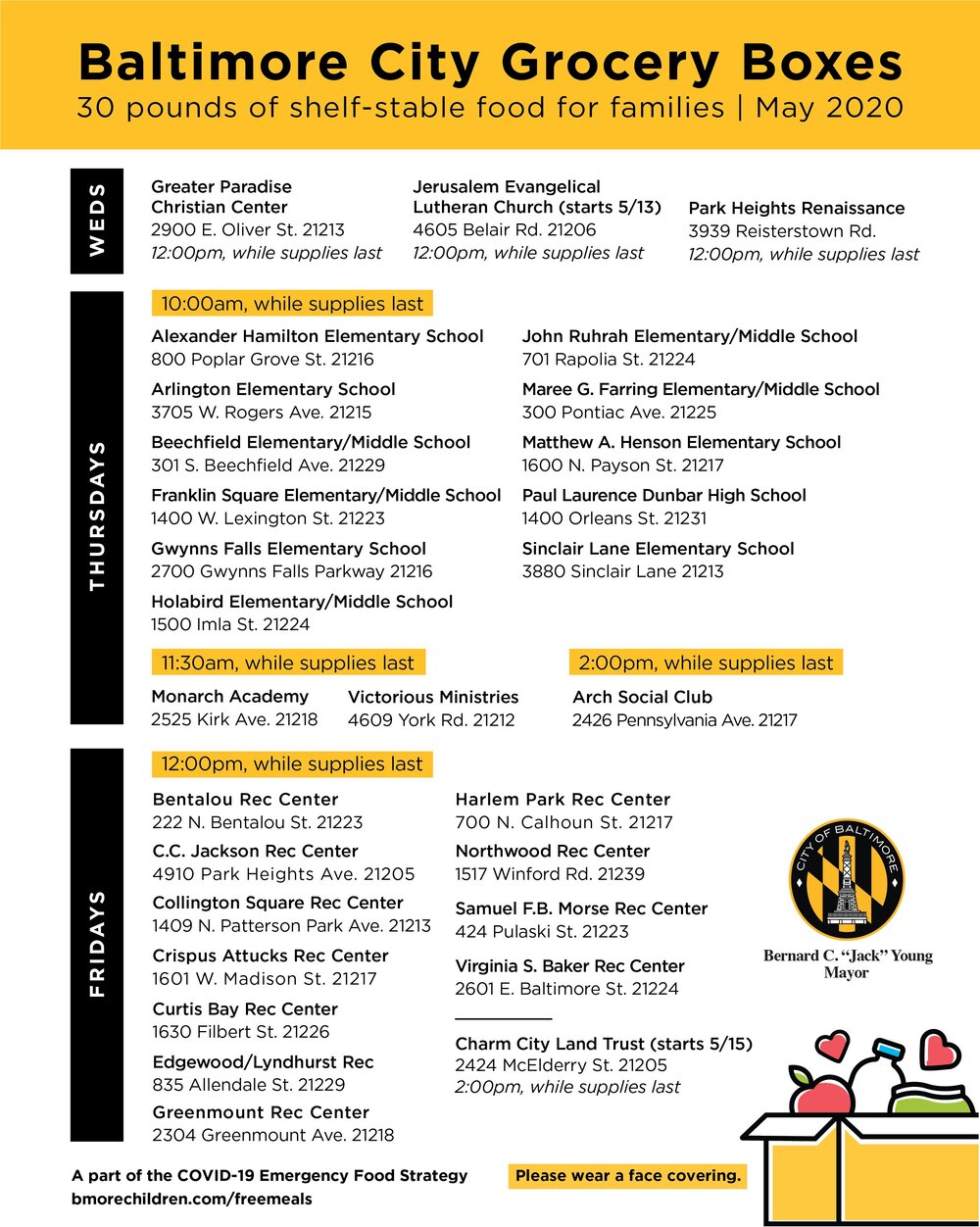 New Song Academy
Activities and Organizations
Robotics
Elementary and Middle School students on the Robotics Teams will learn teamwork while developing technical proficiency in VEX Robotics. Students will compete in city-wide competitions as part of this program under the leadership of Lamont Johnson.
Math Tutoring
Girl Scouts Mentoring Program
Girl Scouts of Central Maryland we'll be developing literacy skills for future leaders using a series of wonderfully illustrated books and activities! We help guide girls in grades K-2nd through a journey of diversity, feelings, self-esteem, friendship and courage.
Girls and Boys Basketball
New Song is proudly represented by Elementary and Middle School Basketball teams. Students learn basic skills of the game while developing the collaborative skills necessary to work as a team. Basketball practices are led by Mr. Sean Stevenson.